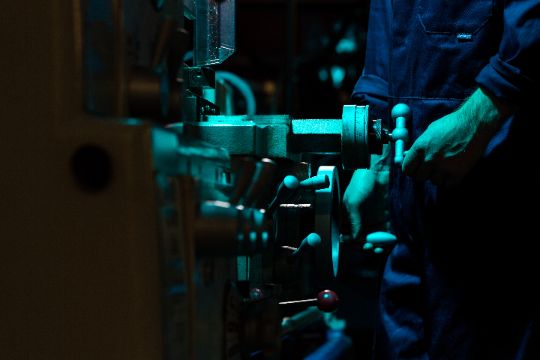 DEPARTMENT OF MECHANICAL ENGINEERING
The Department of Mechanical Engineering started in the year 2005-06. The Department offers B.E – Mechanical Engineering with an intake of 120, M.E Thermal Engineering with an intake of 06 and a Ph.D. Programme by Anna University Chennai.B.E Mechanical Engineering Programme is accredited by NBA under Tier II. The Department has excellent infrastructure facilities worth Rs. 120 Lakhs for the betterment of students and faculties by keeping on par with the latest trends.The laboratory facilities including 3D printing, IoT Lab, VCR Engine, DRO Vertical Milling Centre, CNC XL Turn, CNC XL Mill, Surface Roughness Tester, Auto Collimator, ANSYS, Solid Edge, NX CAM, Lab View are in well-equipped condition for the Course of Study.The Department has received a total grant of Rs. 41 lakhs so far from various funding agencies like AICTE, IE (I), TNSCST, SERB.Currently, the faculty strength is 32, out of which 10 are with a Ph.D. degree.Our faculty members have published 248 research papers in reputed Journals in the last 10 years.10 Batches of B.E Mechanical Engineering students have passed out with an average graduation rate of 83.1 % and 4 batches of M.E Thermal Engineering students have passed out with 100%. So far 15 of our B.E Mechanical Engineering graduates got university ranks.The department has MOU's with 33 leading industries for getting internship & in-plant training, Guest Lectures and Consultancy works. 

On average, 65% of students are undertaking in-plant training every year, 80% of students are participating in technical events like Paper Presentation, Technical Quiz, Project Contest, CAD modeling and RC Racing conducted by other premier institutions.70% of students are involving in sports activities/NSS/YRC/RRC activities. 15 No of students are in the college NCC and got B certificates.Every year at least 75 students are undertaking Value added courses like Solid Works, CATIA, Ansys, Creo, six sigma, Lean manufacturing, other than their regular curriculum during evening hours through MSME/NSDC partners arranged through the department.Students are going for Industrial visits every year starting from the Second year to bridge the gap between academics and industries. Every year Third-year students have undergone the summer research fellowship programme at IIS, IIT, CMERI & Forge Accelerators.All Eligible students are placed in either Core or IT Companies. Some of our Recruiters are Hirotech, Rabwin Industries, Aquasub Engineering, Tech Mahindra, TCS, Zoho, BYJU'S, Ashok Leyland, Delphi Tvs, etc.Online Test, Mock HR, Seminars Technical Interview and Group Discussion are conducted from first year onwards to improve the skills required for career opportunities as well as the industry requirements.

The department organizes guest lectures on "Awareness about Competitive Exams and Higher Studies" to get an exposure on GATE, IELTS, CAT, MAT, AFCAT, SSB, GRE, TOFEL, RRB, UPSC, IBPS, TNPSC, etc. The department is organizing communication skill development activities for the voluntary students, Focusing areas on Part of speech, stage presentation, vocabulary and reflections. The students are membered with various Engineering societies. All the students are ISTE Members, 55 students are SAE members. So far TNSCST, IE (I) funded for an amount Rs. 82,000 for various students' projects. Our department students have participated in National level Go-kart event organized by ISIE they bagged up overall 15th position among 53 teams from 13 states in the year of 2016 and other teams of 25 students participated in Gokart event at Noida and completed in the fourth position and won the best innovation award in the year of 2018. Three Go-Kart Teams namely Moto maiden, Lycans 2.0, Darkans Team 007 had been participated and secured 12th, 17th, 18th place respectively and Team Lycans 2.0 Bagged II place in Best Innovation Award among 86 Teams in BFKCT 2018 held at Coimbatore.

Our department students have participated in the SUPRA event, held at Buddha International Circuit at Greater Noida, secured 50th rank out of 176 teams. Our Department filed 19 Patent out of which 10 Product & 9 Design Patent. The Department has a very strong alumni network across the globe. Our alumni are working in leading industries like Mercedes Benz, Renault Nissan, Daimler, Robert Bosch, Cameron, LMW, Pricol, John Deere Etc. Also, our Alumni are in the Indian Navy, TamilNadu Uniform Services, Banking sectors etc.

Under Graduate Programme
B.E. Mechanical Engineering
4 Years
Description
It is a field of study that deals with designing to manufacturing any product that requires the principles of motion, energy, and force. During the course of study, students are taught to solve problems in a technical way.
Post Graduate Programme
M.E. Thermal Engineering
2 Years
Description
M.E. Thermal Engineering is a Post Graduate course in the domain of mechanical engineering with a specialization in the field of thermal process and thermodynamics related aspects.
Doctorate Programme
Ph.D. Mechanical Engineering
Full Time
Course Description
PhD Mechanical Engineering is a research-based course. Throughout the duration of the course, students get to learn various mechanical engineering skills. One learns about various machines and related equipment.
DEPARTMENT ACCREDITED AND RECOGNIZED BY

supporting pm initiatives mapped with aicte

The Department of Mechanical Engineering started in the year 2005-06. The Department offers B.E – Mechanical Engineering with an intake of 120, M.E Thermal Engineering with an intake of 06 and a Ph.D. Programme by Anna University Chennai.
Students are going for Industrial visits every year starting from the Second year to bridge the gap between academics and industries. Every year Third-year students have undergone the summer research fellowship programme at IIS, IIT, CMERI & Forge Accelerators.
Our department students have participated in National level Go-kart event organized by ISIE they bagged up overall 15th position among 53 teams from 13 states in the year of 2016 and other teams of 25 students participated in Gokart event at Noida and completed in the fourth position and won the best innovation award in the year of 2018.
Three Go-Kart Teams namely Moto maiden, Lycans 2.0, Darkans Team 007 had been participated and secured 12th, 17th, 18th place respectively and Team Lycans 2.0 Bagged II place in Best Innovation Award among 86 Teams in BFKCT 2018 held at Coimbatore.
The team Mr.Piston had been participated and secured 1st Runnerup with a total cash prize of Rs.62,500/- in the event BFKCT 2019 held at Coimbatore.
Our department students have participated in the SUPRA event, held at Buddha International Circuit at Greater Noida, secured 50th rank out of 176 teams.
Our Department filed 19 Patent out of which 10 Product & 09 Design Patent.
The Department has a very strong alumni network across the globe. Our alumni are working in leading industries like Mercedes Benz, Renault Nissan, Daimler, Robert Bosch, Cameron, LMW, Pricol, John Deere Etc. Also, our Alumni are in the Indian Navy, TamilNadu Uniform Services, Banking sectors etc.
25 final and third year students of Mechanical Engineering Department of Team MOTO MAIDEN (IKR17001) from SNS COLLEGE OF TECHNOLOGY have won the below mentioned Award in ISIE-Indian Karting Race 2017 and won the Best Innovation award organized at Galgotias University and Buddha International Circuit, Gr. Noida from 17th Jan to 20th Jan 2018.
C.Pratheep (Pratheep Chinnasamy) from final year Mechanical Engineering has graduated as an Innovation Engineer from Forge accelerator, Coimbatore on 12.07.2019. Dr.Surappa, Vice Chancellor- Anna University, Chennai handed over the certificate.
P.Tamilselvam, G.Tharanitharan ,Department of Mechanical Engineering, Received Fund of Rs 15 Lakhs in the Title of "Modernization of CAM Laboratory by Using Flexible Manufacturing System"under AICTE MODROBS Scheme
The Department of Mechanical Engineering organized one day seminar on "Advanced Welding Technology" was organized by Mr.M. Naveenkumar, Dr. R. Ranjith and Dr. T. Prakash dated on 21.08.2018 to 93 external Participants
The Department of Mechanical Engineering organized a National Level Contest on Engineering Drawing for I year Engineering Students on 13.11.2019. Total no.of beneficiaries : 110 Students from Various Engineering Colleges.
The Department of Mechanical Engineering organized two day Boot camp on "workshop on Digital Manufacturing using Autodesk Fusion 360″dated on 28.11.2019 & 29.11.2019 about 102 students participated from various colleges.
The Department of Mechanical Engineering organized two day National level symposium "TEXPERIA 2020″dated on 14.02.2020 & 15.02.2020 about 102 students participated from various colleges.
The Department of Mechanical Engineering along with EDC organized three day Entrepreneurship awarness camp dated on 29.01.2020 & 31.01.2020 . The event is funded by NSTEDB