Counselling Code: 2726
department of mechanical engineering

facilities
All the classrooms are spacious, well ventilated and equipped with WIFI facility, Newspaper stand and Glass Board. Besides all classrooms are fitted with colour blinds to reduce the glare during ICT usage. Overhead Projector with UPS connection for uninterrupted power supply. One – third of classes are equipped with Smart board for the enhanced learning experience. All the classroom also provided with Notice board which displays latest programs and other information related to a particular class.
THERMAL ENGINEERING AND HEAT POWER LABORATORY
Thermal Laboratory provides lot of opportunity to the students to study different types of IC engine, boiler performance study and to do their innovative projects. The performance test, and heat balance test, can be carried in variety of IC engines like petrol/diesel fueled with single and multi-cylinder engines with mechanical, electrical, hydraulic loading devices. The Variable Compression Ratio (VCR) Engine Test Setup (Kirloskar made) is used for conducting test. It uses Eddy Current Dynamo meter for loading the engine. Engine tests were conducted using various blends of bio-diesel with variable compression ratio. The modern digital gas analyzer and AVL smoke meter are available to do emission and smoke test.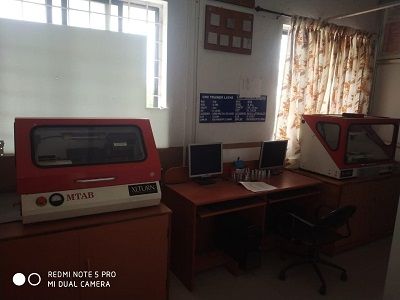 CAM LABORATORY
CAM Laboratory equipped with one CNC trainer lathe (two axis machine) and CNC milling machine with NX CAM Software.
Students trained with both the machine and providing industrial exposure in production area.Through this laboratory,Students can get know the right way to handle all kinds of CNC machine.Faculty and students are also doing many research projects and published the paper through this laboratory. Received the fund of Rs 15 Lakhs to Modernize the CAM Laboratory through Flexible manufacturing System under AICTE MODROBS Scheme.
ENGINEERING PRACTICES LABORATORY
All kinds of Tools, equipment and safety equipment for Plumbing, Welding, carpentry and sheet metal fabrication are available in this lab. TIG and MIG welding equipment for high end applications are also available. This labs mainly helps to develop prototypes, Karts for National Level competition and other working model demos can be created in this lab by students.

FLUID POWER LABORATORY
Fluid Power control lab is the part of a modular program of mechanical engineering. This lab covers all hydraulics and pneumatics applications that answer the needs of students at any educational level or specialization. The lab enables students to understand the fundamentals of properties of fluids.Fluid Power control laboratory including HYDROSIM & PNEUMOSIM Software , LabVIEW software and basic pneumatic kit.

MANUFACTURING LABORATORY (1 & 2)
This lab helps to give exposure about all kinds of machining process for all kinds of Lathe operations to drilling, gear Hobbing, gear Cutting, VMC , Slotting and grinding. The lab is also equipped with Surface Roughness tester to check the machined surface finish.


METROLOGY AND MEASUREMENTS LABORATORY
This Lab helps the students to understand and learn about different measurement techniques using gauges , Plugs and calipers. The key highlights include Autocollimator, Profile Projectors are equipped to give practical exposures. In addition to this, all calipers are available in digital format to give exposure for students

pg LABORATORY
1.CFD LAB

Computational Fluid Dynamics laboratory is enriched with Ansys updated version to pursue the PG students project work in a quality way .The laboratory provides 18 intel processor with updated version to meet the Ansys and fluent related project for Ph .D .research scholar too.

2.PG Thermal engineering lab.

The Advanced research IC engine "VCR" with the data acquisition system provides, multi fuel and compression ratio variation , online data analysis for both PG and Ph.D. Research scholars .Further, using this Research engine, many of the students and scholars from other institutions completed their research work under consultancy. Moreover, the laboratory has the equipment's like solar measurement devices with solar panels, and compressors and various IC engines to enhance the students research.