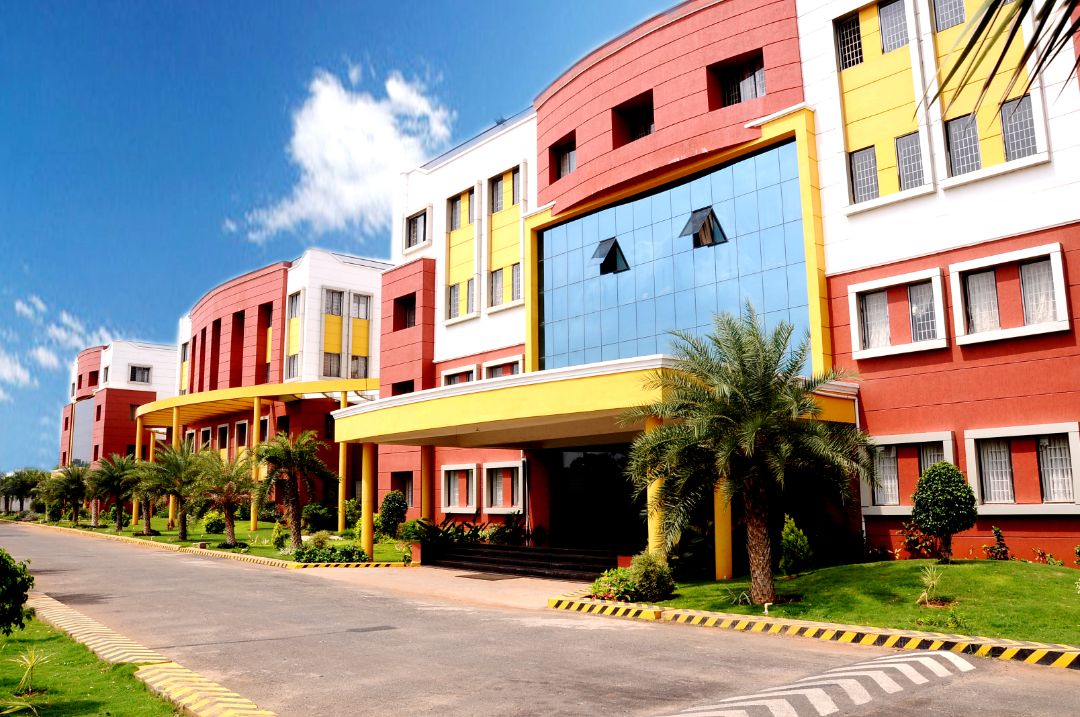 The Department formed "SNSCT Mozilla Campus Club" for the benefit of students with open source software. Faculty and Students are members of professional societies like Computer Society of India, ISTE, etc. Our students have received various prestigious awards viz "Best NSS Volunteer award" from Anna University Chennai [State level] and "Best Student Award" from Indian Society for Technical Education-Tamilnadu& Pondicherry Section. Our alumni have also received "Pat on the Back" and "Feather on the Cap" award from top IT giants like Tech Mahindra and WIPRO Technologies. Our department faculty members and students actively participate in extension activities like Computer Literacy Program, Awareness program on Usage of Electronic equipments, 100% Voting and H1N1 virus etc. as a part of social activity for the benefit of public, students and teachers.
DEPARTMENT OF
INFORMATION TECHNOLOGY
The Department of Information Technology emerged in the year 2002 offers quality education to the budding young technocrats. Department offers B.Tech Information Technology Programme with an intake of 60. The department is manned by an energetic team of qualified, dedicated and experienced faculty members. The department distinguishes itself by producing competent software and networking professionals to fit today's requirements. The department provides in-depth technical knowledge and opportunities for innovation and research. The B.Tech IT Programme is Permanently Affiliated to Anna University and accredited by National board of Accreditation (NBA) thrice.

The department is equipped with modern Laboratories to meet the thrust areas of Industry. The department has established Centre for Excellence Big Data Analytics Lab with latest software such as Hadoop, HDFS, HIVE etc. The department has ICT class rooms and network facilities to support e-learning, innovative teaching and research.

The Department has faculty members specialized in Data mining, Computer Networks, Soft Computing, Evolutionary Computing, Network Security, Cyber Security and Ethical Hacking, Big Data Analytics, Image Processing, Internet of Things, Cloud Computing and Mobile Computing.

Faculty Members organize and participate in several International and National Level Seminars, Conferences and Workshops to enrich the knowledge time to time. They have also published research papers in various peer reviewed National and International journals and presented papers in conferences. Periodic guest lectures and workshops are conducted for the students to supplement their curriculum and to make them industry ready professional. The Department has produced 2 Gold Medals, 27 University Ranks and maintains a graduation rate of 85% and above.

The Department also take initiatives to sign MOU with various industries and software companies. At present the department has tie up with 14 Industries for mutual benefits. Industry collaborative activities such as Internships, Industrial Visit, In Plant Training and Industrial Project are carried out to enhance their practical knowledge. Faculty members take up consultancy works from the industry/organization nearby, so far Nine consultancy projects were completed and generated revenue of about Rs.2,23,000/-.

The top recruiters of our department include Tech Mahindra, IBM, HP, TCS, CTS, UST GLOBAL, etc. Around 87% of our students get placed in the top companies through campus recruitment.

Under Graduate Programme
B.Tech. Information Technology
4 Years
Description
B. Tech in Information Technology (B. Tech in IT) is a four-year undergraduate program that deals with information security, maintenance of databases and networks, technical support for computers, and business software creation.
DEPARTMENT ACCREDITED AND RECOGNIZED BY

supporting pm initiatives mapped with aicte

Program offered by the department is B.Tech (IT).
Department is Accredited by NBA & Permanently Affiliated to AU.
The Department has 2 Ph.D. Holders and 3 faculty members are pursuing Ph.D.
Tutor-ward system, Counseling is provided suitably to all students.
Graduation rate of the department is more than 90 percentage.
Department Placement for past 3 years is more than 80 percentage.
Department holds two gold medals and 27 university ranks.
Department stands first in the graduation rate for the past two batches.
Overall success rate of the department is 85% over three years.
BOT Lab-Established in Association with Automation Anywhere University, installed the RPA.
Software worth of Rs.75 Lakhs for the knowledge enhancement of students.
198 Research Publication in Journals, 174 Conference Publications.
Grant of Rs.3, 27,045 received to conduct seminar and workshop from various external funding agencies such as CSIR, AICTE and so on.
The Department formed SNSCT Mozilla Campus Club for the benefit of students with open source software.
Technical symposium Texperia is conducted every year with external participants.
The software freedom day is conducted every year with the aim of promoting usage of Open Source software.
National conference titled National Conference on Network Intelligence and Computing Systems – NCNICS every year to support students and research community.
International conference titled International Conference on soft computing and Network Security- ICSNS was conducted during February 2014 in collaboration with Kyungpook National University and IEEE.
The next conference is scheduled to organize in February 2018.
100 Mbps Internet facility with Wi-Fi connectivity wide campus.
Industry offered Courses- Composing mobile Apps, Business Intelligence -Data Warehousing and Analytics Big Data Analytics & IOT (Infosys), Digital Marketing (Verticurl).
Department holds two ISTE Student Awards and ten Alumni Awards.
Department of IT & CSE International conference titled "International Conference on Soft computing and Network Security- ICSNS" was conducted during February 2014 in collaboration with Kyungpook National University and IEEE.
Technical symposium "Texperia" is conducted every year with external participants.
Department of IT & CSE jointly organised an International conference titled "International Conference on Soft computing and Network Security- ICSNS" was conducted during February 2014 in collaboration with Kyungpook National University and IEEE.