Counselling Code: 2726
department of civil engineering
student development ACTIVitiES
Various number of students development activities are constantly being practiced in each classrooms, enforced by our Center of Learning and Teaching

teaching pedagogies

best practices
Integration of technology into education has enhanced the teaching/learning process to a higher level. The effective use of ICT in pedagogy has helped in grabbing the attention of the student throughout the session. Teaching-learning through various best practices such as Flipped Classroom, Role Play, Case Study, Group Discussion, Small Group Learning, Problem Based Learning, Project Based Learning etc., has elevated the level of it.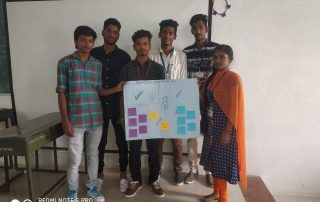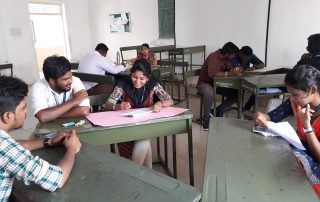 DESIGN-THINKING-BOOT-CAMP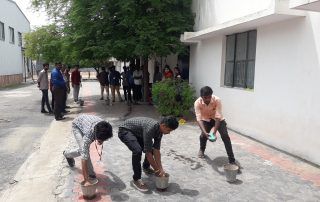 INDUSTRIAL-TRAINING-BY-EXPERTS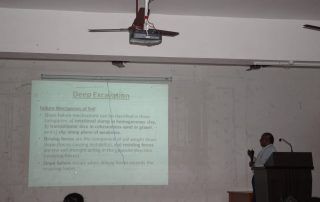 INDUSTRY-PEOPLE-INTERACTION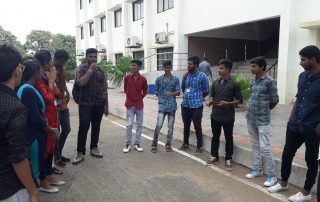 An online platform for students and teachers to share and access their course materials

Demo Models (Used by Faculty Members in Classroom)

Demo Models 
O.R.Kavitha explains the Stability of different types of retaining wall using demo models for 16CE401 -Design of structures in class room. This will give the best explanation of different types of retaining walls constructed in dams & landslides

A Mini Project on Tower Crane was done by Mr.C.Ravishankar in Association with Mr.P.Selvaprasanth AP/CIVIL

A Mini Project on Light Jouse was done by Mr.V.S.Nagul Pranav in Association with Mr.P.Selvaprasanth AP/CIVIL

A Demo Model Hydraulic scaffolding was done by Mr. P. vignesh & Mr. K. Surya in Association with Ms. Sathya, AP/CIVIL

A Demo Model Boundary Layer Flow was done by Mr. G. Thirunavaukkarassu in Association with Ms. Sathya, AP/CIVIL

A Demo Model Capillarity has been made for 16CE203- Fluid Mechanics course for expanation of viscosity of fluids

A Demo Model Bending of beam has been made for Design of RC structures

A Demo Model Beam Reinforcement has been made for Design of RC structures

A Demo Model Column Reinforcement has been made for Design of RC structures

A Demo Model Footing has been made for Design of RC structures

A Demo Model Reinforcement detailing for one way slab has been made for Design of RC structures

A Demo Model Reinforcement detailing for two way slab has been made for Design of RC structures

A Demo Model smoke detector fire alarm has been made for Repair and Rehabilitation of Building
STUDENT PROGRESSION
Every student right from the first year are given personal care through tailored activities with a specially assigned mentor. Talent search and personality identification of each student is done at large and they are taught, trained, challenged and guided in a systematic progression. From the first year onwards, students are encouraged and guided to be globally competent through various competition and challenging forums. The capable students are also given the opportunity to customise the courses that they learn by hand picking electives. There are also means by which the student can even choose who would teach a specific course to increase the faculty-student interaction and understanding. Through personal mentorship programme, each student is given special and individual care to help them grow and mature in academic, social and personal skills and talents. At the end of the four years, it is made sure that every student progress in systematic, customized and challenging manner in all need knowledge and skills to sets. The student progression is monitored by keeping a record of all the activities like attendance & assessment for each course by the respective faculty. Apart from the mentoring system, the students' progress is monitored through class tests, online quizzes, assignments, development of teaching material for specific topics, submission of journal abstracts of current status of the technology, by making them attend conferences/seminar/webinars on relevant topics. This exercise makes them involve themselves and makes them proceed beyond communication barriers, rural/ urban background and get a sense of team work. Slow and fast learners are identified and special work or coaching are given.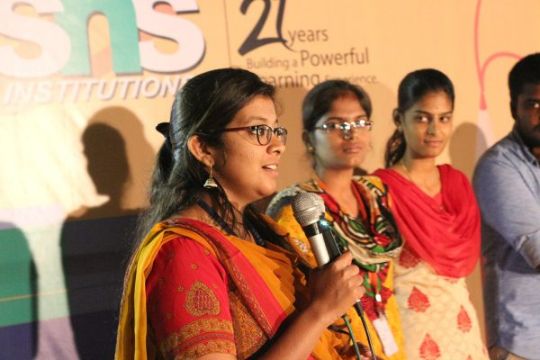 industrial
case study

Naturally, students are more inductive than deductive, they learn better from examples than from logic. So, we believe that the use of case studies is a very effective classroom technique. Students will be provided with an industrial case study linked with the concept or subject, where they got to explore how their learning are applied in the real world situations. This helps the students to actively engage in figuring out the principles from the examples.

P.Selvaprasanth,Assistant Professor,Civil Engineering and his team provided a solution for Customer feedback on Inaugurating new branch in Coimbatore for Sakthi Construction,Cumbum.Customer feedback can be collected by the field surveyors based on people's opinion regarding their point of view such as cost, Esthetics, Reliability etc., Survey can be done by the door step Data collection.Collected data analysed by studying the feedback of the customers.Multiple solutions were arrived by the team.Finallu feasible and possible solution were given by the team.
K.Arumugam,Associate Professor in Civil Engineering and his team provided a solution on Corrosion of reinforcing steel represents the most widespread form of deterioration of concrete structures. It affects reinforced concrete which is exposed to the effects of carbonation and/or to significant concentrations of chloride salts. Over the past decade, however, the concrete repair industry has developed novel techniques that are claimed to restore the protective character of cover concrete by introducing corrosion inhibitors into the carbonated and/or chloride-contaminated material.
R.Anuradha, Professor,Civil Engineering and her team provided a solution for Concrete paving for Precast factory problem – sleepers 200mm precast construction in factory was done by using EOT which is uneconomical, time consumption and also it is not energy efficient. Servicing the equipment is also a very big problem it takes two days. Due to this delay manufacturing will get affected.
G.Iyappan ,Assistant Professor and his team provided a solution for modified paverblock with Mineral Admixtures association with Industry of Ahimsai International Private Limited Coimbatore
students'
mini projects
Project-based learning is an instructional approach, which helps the students in developing knowledge and skills by engaging in projects and solving real world challenges/problems. We practice project based learning by encouraging the students to do minimum two mini project per semester. Students are progressively taking up the tasks and projects to pad up their skill-set.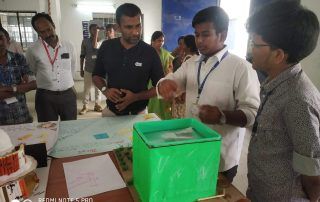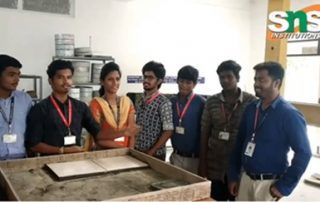 REMEDIAL MEASURES FOR POPPING OF TILES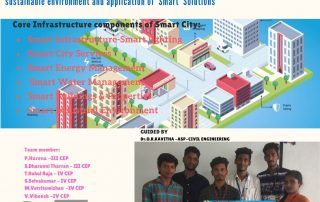 Mini Project on smart city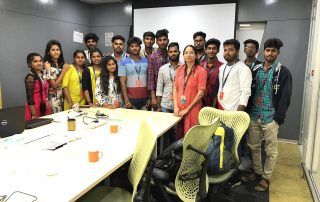 Mini Project on GIS by Here Technologies Bangalore