Counselling Code: 2726
department of ELECTRICAL AND ELECTRONICS engineering

facilities
All the classrooms are spacious, well ventilated and equipped with WIFI facility, Newspaper stand and Glass Board. Besides all classroom are fitted with colour blinds to reduce the glare during ICT usage. Overhead Projector with UPS connection for uninterrupted power supply. One – third of classes are equipped with Smart board for the enhanced learning experience. All the classroom also provided with Notice board which displays latest programs and other information related to particular class
POWER SYSTEM SIMULATION LABORATORY 

The primary goal of the simulation laboratory is to solve the real-world problems
safely and efficiently. It provides the modelling and analysis of power system / power electronics situations which is easily verified, communicated, and understood.This laboratory consists of simulation facilities such as MATLAB and ETAP software packages in order to meet their requirements of UG – Electrical and Electronics Engineering Profession. It is equipped with 30 computers, high speed server, ICT enabled structure with all scanning and printing facilities.



POWER ELECTRONICS AND DRIVES LABORATORY 

Power Electronics and Drives lab is an important laboratory for UG, PG and Doctorate programmes. This lab enhances the students by providing them the better understanding of the concepts and working of advanced power semiconductor devices and power electronics circuits. The state of art equipment consists of smart power module with closed loop system, FPGA / DSP based power converters, PLC based drives are utilized to control the electrical machines such as AC motor, DC motor, BLDC motor and SRM motor. This lab also provides the platform for the UG / PG students to perform and check their multi-disciplinary design project. PhD Scholars are also made to utilize this special drive system. This laboratory is utilized by various disciplines of engineers.

ELECTRICAL MACHINES LABORATORY 

Electrical Machines Laboratory is the primary laboratory in EEE discipline. This laboratory is general enough to hold many number of experiments for monitoring, diagnosing and exposing the principles of all rotating machines and transformers. The experiments like load test, open circuit / short circuit tests, speed control tests and special tests are carried in order to determine various performance analysis such as internal / external, electrical / mechanical characteristics. The state of art equipment consist of rectifier, motor-generator set, motor- alternator set, induction motor, synchronous motor, variety of transformers and different loads. The laboratory is also utilized for research activities in energy conversion sector. This laboratory is utilized by various disciplines of engineers.




CONTROL SYSTEMS AND CIRCUITS LABORATORY
This laboratory focus on the basic concepts of circuits, control, research, design and development of various circuits and processes. This laboratory consist of simulation and hardware experiments, enhancing the knowledge in various theorems, resonance, steady state / transient, transfer functions and various responses of control system. This laboratory equipped with CRO, signal generators and several trainer kits.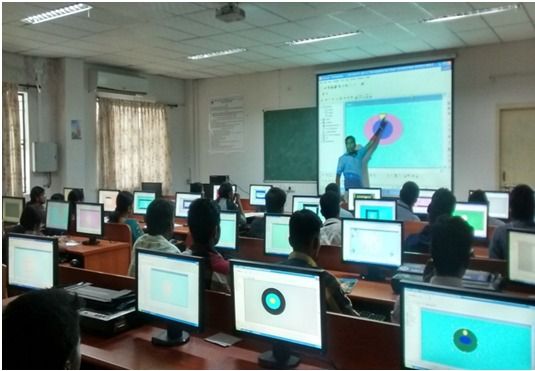 PG RESEARCH LABORATORY
The PG Research Laboratory is developed to enhance the research capabilities for Power Engineers in the department. Postgraduate and Research Scholars utilize this laboratory for rapid technology transfer in various domains in the field of power systems and power electronics. ICT enabled, higher end version computers with internet is the facility of the laboratory. It is also enabled with IEEE explorer. The laboratory gives provisions for conducting National/ International conferences, Symposiums, FDPs, STTPs, Workshop etc.
DEPARTMENT LIBRARY
The Department Library occupies a unique place in academic and research activities of the Department. It is perhaps the most important central facility provided by the Institute. The Library maintains an excellent collection of data books, occasional papers and other documents/materials. The Library has a well equipped facility for reading.
"Libraries are reservoirs of strength,
grace and wit, reminders of order,
calm and continuity,
lakes of mental energy,
neither warm nor cold,
light nor dark.
The pleasure they give is steady,
unorgastic, reliable,
deep and long-lasting.
Germaine Greer "