department of
electronics and instrumentation engineering
facilities
All the classrooms are spacious, well ventilated and equipped with WIFI facility, Newspaper stand and Glass Board. Besides all classrooms are fitted with colour blinds to reduce the glare during ICT usage. Overhead Projector with UPS connection for uninterrupted power supply. One – third of classes are equipped with Smart board for the enhanced learning experience. All the classroom also provided with Notice board which displays latest programs and other information related to a particular class.
PROCESS CONTROL LABORATORY
For an Instrumentation Engineer, Measurement and control are two important areas. Process Control Lab gives the students an opportunity to visualize the control loops in industries. Process Control Lab houses process stations such as Flow station, Pressure Station, Temperature Station and Level Station. These process stations are IoT ready. Final year students can carry over IoT based process control projects in this Laboratory. Equipment's costing more than 8 Lakhs have been stationed here. State of the art equipment such as interacting and non-interacting systems, cascade control is also available for the students to explore and learn. This lab plays a very important role in making the students Industry-ready.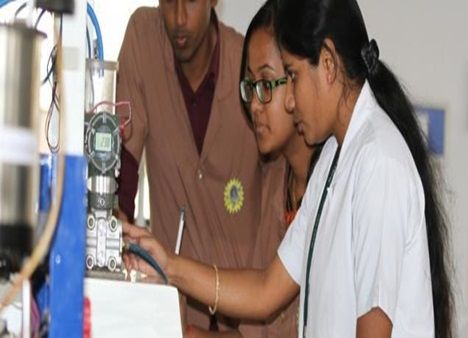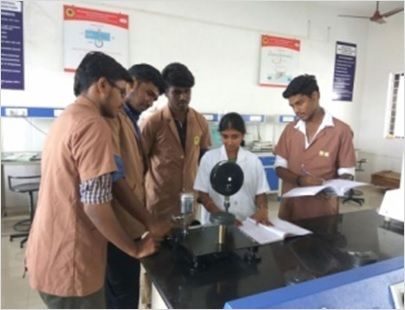 INDUSTRIAL INSTRUMENTATION LABORATORY
Instrumentation is full of measurements and this lab gives a hands-on experience to measurement of various parameters. The laboratory has equipment's that are used for measurement of Level, Flow, Pressure, Temperature, Viscosity, Humidity, pH etc. Instruments to the tune of 3.5 lakhs are available which ensures that students are well versed in measurement of various industrial parameters. The students are also given exposure to calibration techniques in this lab, which is an important attribute for an Instrumentation Engineer.
VIRTUAL INSTRUMENTATION LABORATORY
Like MATLAB is to an Electronics Engineer, LABVIEW is to an Instrumentation Engineer. Virtual Instrumentation Lab is a place for Simulation of various instrumentation and control systems. This lab has been setup at a cost of 6.5 Lakhs. Licensed version of LABVIEW is available for the students to explore the full version and facilities of LABVIEW. DAQ cards have been purchased which makes real time signal acquisition possible. Students are trained to program and acquire real time signals and work with them. This lab is provided with 30 PCs of high configuration suitable for handling real time data.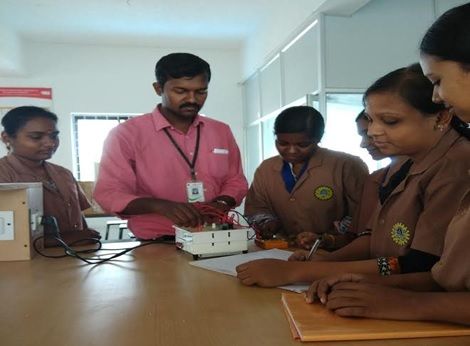 INSTRUMENTATION SYSTEM DESIGN LABORATORY
An Engineer is supposed to be a good designer. SNSCT believes in this and wants its graduates to be Design Thinkers and Problem Solvers. To improve the problem solving capacity, it's important that students have good knowledge of design. At Instrumentation System Design Lab, the students are exposed to design of Amplifier and signal conditioning circuits for various instrumentation systems such as Strain Gauge, Thermocouple, RTD, LVDT etc. This lab gives the students a chance to design circuits and implement them practically in lab and validate the design.
PROJECT LABORATORY
A component of Engineering that gives the students an opportunity to put their theory into practice, that can be useful for the society and Industry is the Project Work. To give wings to the dream of our students, we have equipped our Project Laboratory with the latest technology. Various Processors from Microprocessors to PLCs to Node MCU to the latest Raspberry Pie are available in this Laboratory. Various measurement transducers and sensors are also provided with appropriate interfaces.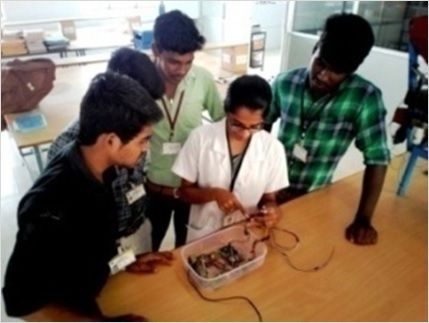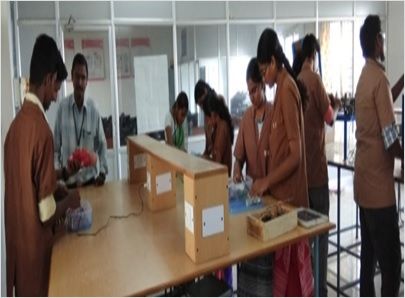 MEASUREMENTS LABORATORY
This lab caters to improving knowledge of our students in measurement of electrical parameters. The Industrial Instrumentation Lab deals with process measurements, whereas the measurement lab is for the electrical measurements. Experiments on AC bridges for measurement of unknown Inductance, Capacitance and associated parameters are carried in this lab. The students are also exposed to calibration of Ammeter, Voltmeter, Watt meter and Energy meter.
TRANSDUCERS LABORATORY

In this Electronics World, we can see everything turning electronics. Even the Automobiles which were mechanical are becoming an electronics oriented. Transducers play a crucial role in converting any non-electrical parameter into electrical. This lab houses various sensors and transducers for the measurement of parameters such as temperature, strain, displacement, torque , etc. The students are exposed to how to calibrate an instrument before carrying measurements and are taught the procedure of measurement of various parameters.

DEPARTMENT LIBRARY
In addition to the main Library of college, the department is equipped with its own library containing 68 Titles, 187 Volumes and UG project Reports. The students also have access to 663 e-books, 331 NPTEL Videos and can access 2872 CDs and DVDs. In addition to these students can also have access to Journals and e-Journals